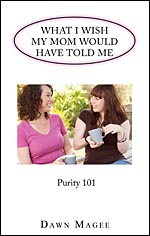 Dawn Magee, founder and president of Rising Oaks Ministries, has been teaching the principles of purity to women of all ages for more than ten years. Now, her compassionate and inspirational brand of wit and wisdom is available in What I Wish My Mom Would Have Told Me, a purity devotional for mothers and daughters.
This teaching resource is designed to encourage communication between mothers and daughters and help women of all ages discover true purity. Though designed to be shared, this book has a lot to offer for those who read it on their own.
For a sample of the content you'll find in What I Wish My Mom Would Have Told Me, visit Dawn's devotional blog right here on this website.
Click the "buy now" button to order securely online! Cost is $15 CAD plus shipping and GST.